Our showrooms design lots of new primary bath suites for homeowners in Metro Denver.  There are several bath design features that homeowners may not consider in their research and planning but simply could not live without once they experience the benefits those features, products, and design elements deliver.
Our Favorite Bath Recommendations for Colorado Homeowners
Heated Bath Floors
There's nothing that says "wow" better than a heated floor. Imagine on a chilly winter night you walk into your new dream bath not on a cold floor covering, but on a warm and toasty surface that surprises and delights your toes.  Heated floors are universally adored by Colorado homeowners, and many are surprised by their affordability and relative ease of installation.
Ample Storage
Similar to kitchens, you can't have too much storage in a dream bathroom. Depending on the available space, we often recommend a combination of shelves, drawers, cabinets, and niches to create homes for towels, cosmetics, cleaning supplies, grooming aids, medicines, and other common products that homeowners in Denver store in their baths.
Niches in the shower and/or tub areas create accessible storage where Colorado homeowners can place shampoo and other bath products such as conditioner and body wash.  Many homeowners appreciate it when we design two niches for the shower or bath area.  The larger one can be used for larger bottles and a second smaller cutout can hold bars of soap, razors, and other grooming aids.
High Performing Plumbing Fixtures
We also recommend to many of our clients that they make the investment in high-performing, long-lasting plumbing fixtures. You want faucets, showerheads, hand showers, and other plumbing fixtures to withstand the test of time.  A high-quality bath faucet will feature a ceramic disk cartridge (leakproof) and a lifetime finish. A high-quality shower system offers a thermostatic valve that enables you to set your shower to a predetermined temperature and the valve maintains that temperature until the water is turned off.
Hand Showers
Speaking of hand showers, they are considered a must-have by homeowners in the Denver Metro area who have installed them in their homes.  Hand showers are used to clean the shower enclosure, for rinsing freshly shaved legs, and for bathing small children and sometimes even the dog. Everyone wants a bathroom refuge and these details make it happen.
Freestanding Tubs
A sculptural freestanding tub, gorgeous vanity, statement-making light fixture or other-worldly tile or stone can help create head-turning focal points in your dream bath.  However, only opt for this option if it's something you will truly use. If not, expanding your shower to a steam option or creating seating or more storage may make more sense for you.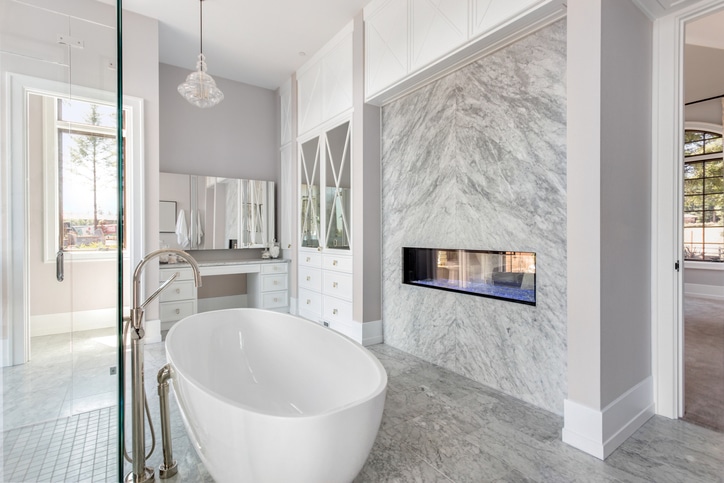 Bath Lighting
Invest in lighting because lighting can make or break the look and feel of your dream bath.  We recommend a layered lighting approach, that provides the right light to prepare for the day or a night on the town. Start at the top with general illumination, next think of lighting to apply makeup near the mirror, and beautiful pendants for style. You can even LED strips that can light the way to the water closet in the middle of the night without disturbing your partner.
What design features can take your new dream bath from good to great? Give us a call or make an appointment to visit any of our showrooms, and let us show you how to create the bath that exceeds your most lofty expectations.