Calling all contractors, home renovators, flippers, and DIY enthusiasts: we've got your discounted bathroom vanities and kitchen odds and ends.
This is even better than the contractor discount we offer to all contractors who buy from us. We have hundreds of physical inventory items to help you complete projects, spruce up your laundry room, install a minibar and even keep it on hand for future projects. All sales are final, while supplies last.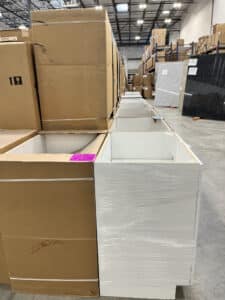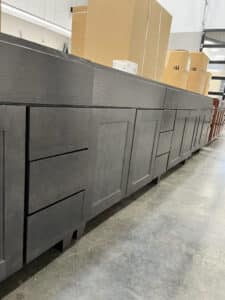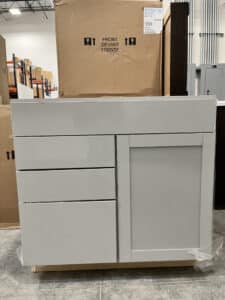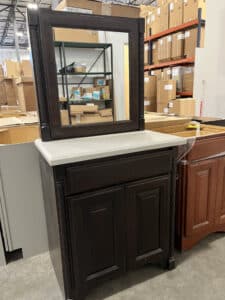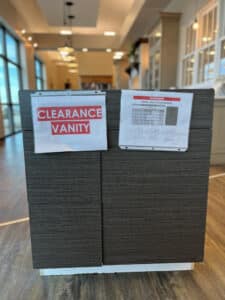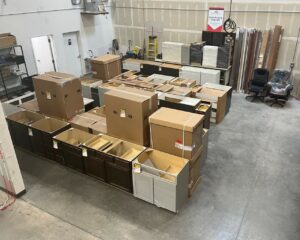 Items range from:
Aristokraft vanity sink bases size 15, 30, 36, 24,  and more sizes.
Aristokraft Base cabinets, lazy susans with hinged doors, diagonal corner wall cabinets. Batten molding, crown molding, laminate stock panels, sink end panels, vanity three drawer bases, wall cabinets, right and left vanity sink bases, wall cabinets in multiple sizes and colors, touch-up kits, toe kicks in multiple colors.
Urbana: base cabinets, base blind corners, left and right vanity sink bases, square corner blinds in grey laminate, white, cherry, and more colors! White lazy susans, drawer bases, base cabinets full height, edge tape, base filler, tall filler, batten molding, cove molding, outside corner molding, scribe molding laminate end panel toe-kick. White vanity bases left and right vanity sink bases, wall cabinets, square corner blind wall, diagonal corner wall, lift up wall cabinets.
KountryWood: cherry cider wood stain base cabinets, drawer bases, Lazy Susans,  floating shelfs, base filler, utility cabinets, vanity bases, vanity drawer bases, wall cabinets, and more!
Legacy Cabinets: dark wood base cabinets, dishwasher vinyl end panels, lazy susans, toe kicks, 4 drawer base cabinets, 6″ Filler, sink base cabinets, utility shelf kits, touch up kits, right and left vanity sink bases, tons of wall cabinets in a variety of colors
This is the perfect sale if you have projects that you are trying to do at a reasonable price, or if you are looking for items to complete an existing project. If you're looking for something specific, we can always special order it for you.
All these items are available for discounted rates, most going for $100 flat. All items in stock, no wait to take!
Come into our Denver Location at 601 E 64th Ave, Suite B-300 Denver CO 80229
Open Monday – Friday 8-5, Saturday 10-4