Define Your Kitchen Remodel Style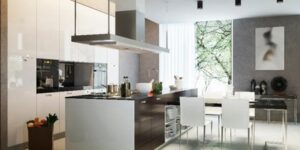 They say that the kitchen is the heart of the home, and we believe it's true. Your kitchen is a central gathering space for family and friends, and its design speaks to your personality and sets the tone for your home.
If you're considering a kitchen remodel or planning to install a new kitchen, it stands to reason that you should spend some time creating a functional yet beautiful space. Selecting designs to suit your taste and lifestyle can be overwhelming, but we're here to help you make choices on everything from wall color to cabinet doors. To get started, take a look at three of the most common design styles below. Consider what appeals to you and come to the showroom to explore the options with our professional design team.
The contemporary kitchen is sleek and sophisticated. It combines art and function and keeps clutter to a minimum. Interesting materials make contemporary kitchens stand out. When it comes to countertops, granite and marble are an elegant choice, while concrete, limestone and stainless steel counters are coming into fashion. For cabinets, the most common materials are highly polished wood or acrylic. Simple door styles exemplify the crisp, clean lines of contemporary design. A pop of color adds character to the contemporary kitchen. This may be achieved through art, a bright mosaic tile backsplash or a vibrant floor finish.
Timeless and graceful forms give traditional kitchens a warm and classic feel. Floor plans are typically open, allowing for formal or casual entertaining. Traditional kitchens often include natural materials on the floors, and you might see marble, brick, stone or even wood on the backsplash.Traditional kitchens generally include more ornate molding and trim; elegant cabinets in cherry, walnut and mahogany and antique fixtures and/or appliances. The traditional kitchen incorporates soft, muted colors such as shades of cream, white, taupe, light gray or green.
Transitional style is a balance of traditional and contemporary furniture, finishes, materials and fabrics equating to a classic, timeless design. A mixture of organic and man-made materials is a cornerstone of transitional design. Cabinets in a transitional kitchen have a streamlined profile; they are generally made of wood with simple paneled doors and sport sleek hardware. Transitional styles layer warm neutral colors and feature textural elements that add visual spark. Minimal accessories and ornamentation add to the casual and classic sophistication.