We always ask homeowners in Colorado who want to create the kitchen of their dreams to describe who in their family will use the kitchen, for what specific purposes, and how often.
What are Your Families Needs?
Today's kitchens need to serve multiple functions especially if homeowners throughout Denver are working from home either part-time or full time. Always the most used and important room in the home, kitchen spaces now serves as offices, conference rooms, homework hubs, cafes, coffee shops, dining rooms, planning centers, and a host of other activities.
Given that today's new kitchens need to be multifunctional, it has become even more important to make it easy and less time-consuming for Colorado homeowners to clean and maintain their kitchens.
Kitchen Cleaning & Maintenance
The amount of effort required for everyday kitchen cleaning and maintenance depends on the type and style of products that you select for your kitchen.  Stainless steel appliances are a go-to option for many Denver homeowners.  Stainless steel shows water stains and fingerprints. Additionally, dirt, grease, grime, and dust can cause stainless steel surfaces to rust if they are not cleaned regularly.  Homeowners that prefer stainless steel appliances should opt for the smudge-proof options offered by many manufacturers.
Easy Clean Appliances
For cooktops, ovens, and ranges, we advise homeowners in Colorado to select models with knobs that are far enough apart to enable someone to clean them easily.  Flat surfaces are easier to clean than detailed surfaces.  Induction cooktops are not only easy to use and make cooking more enjoyable, but their flat surfaces also make them one of the easiest appliances to clean without sacrificing the benefits of cooking with gas.
Easy Clean Cabinets
Stained cabinets show fewer fingerprints, smudges, dirt, and grime than painted cabinets.  Medium stains hide more dirt and fingerprints than lighter or darker stains.  Painted cabinets with semi-gloss finishes are the easiest to clean.  Painted cabinets with a matte or high gloss finish show more fingerprints and dirt and require more frequent attention.
Flat-front cabinets are easier to clean than cabinets with insets, grooves or ridges.
Easy Maintenance Hard Surfaces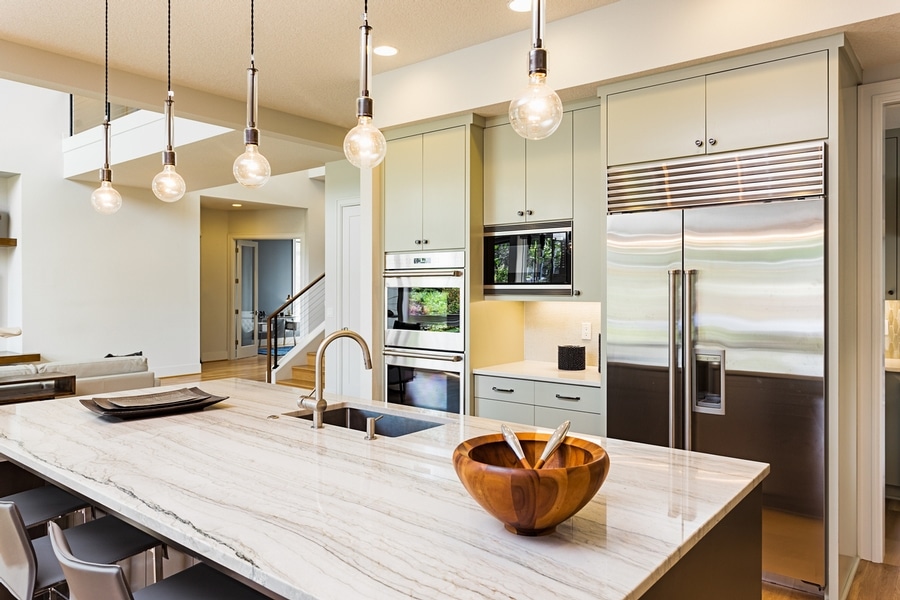 Quartz and stainless-steel countertops are stain-resistant, nonporous and the easiest to clean countertop materials.
Glass and one-piece backsplashes that don't require grout or have seams are the easiest materials to clean. Tile is a popular backsplash choice, but the exposed grout can be a haven for grease and dirt.  If you prefer a tile backsplash that is easier to clean, consider large format tiles with thin grout lines.
Trash & Recycling
Another often overlooked consideration that makes kitchen cleaning easier is the placement of recycling and trash bins.  An ideal location is underneath the sink space permitting or next to the sink.  And if there is adequate space, consider having additional trash and recycling containers in a walk-in pantry, next to the fridge, in an island, or close to the area in the kitchen where most meals will be prepared.
Investing in a high-quality, high-performing range hood that has the capacity to remove most grease, dust, and grime from the kitchen will also make cleaning a lot easier.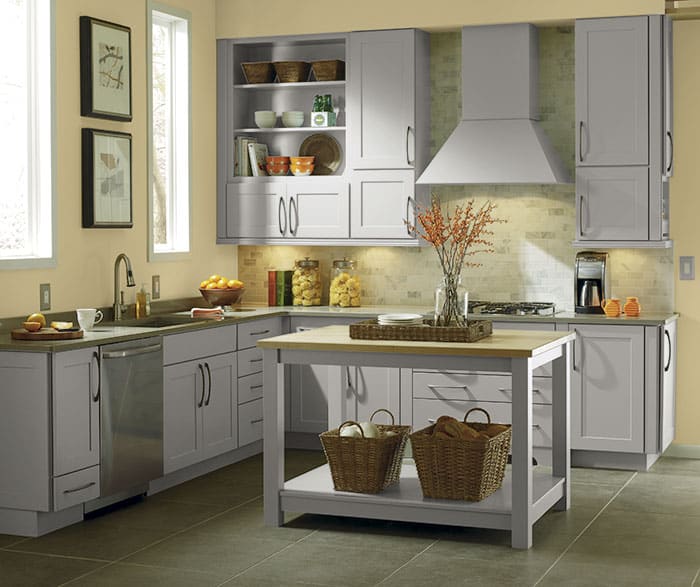 Open shelves in a kitchen can be a focal point and are favored by many Colorado homeowners to store and display plates, vases, cookware, and collectibles.  Open shelves also require more care and maintenance because you need to remove the items placed on the shelves to clean them.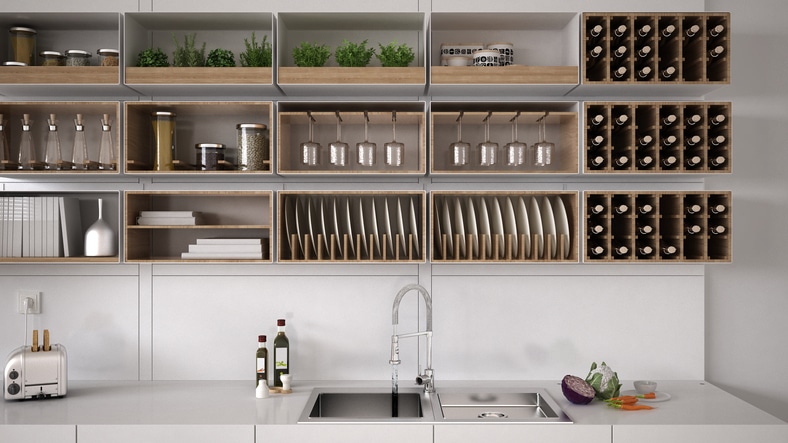 What additional products and designs can make it easier and less effortless to clean and maintain a dream kitchen?   Give us a call or make an appointment to visit one of our showrooms and let us show you how you can create the kitchen you want and deserve that's easy to use, clean, and maintain.