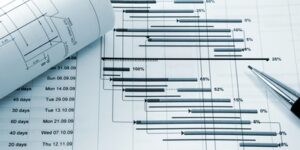 Many homeowners in , Colorado & Dallas, Texas ask similar questions when they want to create a dream kitchen, bath or other space in their homes.  One of the most common questions we receive involves timing. "How long will it take to create a new kitchen or bath?"  The answer is not easy, because supply chain challenges have made it nearly impossible to predict when products will arrive.  While cabinet timelines have come down significantly, appliances remain unpredictable, and it is not uncommon to have appliance delivery times quoted at six months to a year from the date of order.   
Timeline expectations often are unfairly and unreasonably influenced by home and garden television that purport an entire home renovation can be accomplished in seven weeks.  Home and garden television timelines are not realistic.  They do not account for the time it takes to design a space, obtain code approvals, inspections, etc. A best practice for developing and maintaining a construction schedule it to confirm that all products that are needed for the project are on hand before demolition or construction begins.  Homeowners in Denver, Colorado & Dallas, Texas that can store cabinets and other components of their new kitchen or bath in their home until time construction can begin have a distinct timeline advantage, but if you don't have the space for storage, that does not prevent you from creating a realistic and achievable timeline.   
Relying on a single source to coordinate and manage the entire project is another key to developing and maintaining a defined timeline for your project is to. Relying on multiple vendors can be penny wise and dollar foolish. Working with multiple suppliers for appliances, cabinets, countertops, lighting, etc. takes more time, is almost impossible to coordinate and will almost always cost more than working with a single source that can put all the pieces of the puzzle together and develop and maintain an agreed-to schedule. 
Schedules are often severely challenged when homeowners in Denver, Colorado & Dallas, Texas  change their mind midstream.  When you change your mind, you delay the project's completion and increase your cost. Recent industry surveys found changing scope during a renovation is the reason why 33 percent of kitchen renovation projects go over budget and off schedule. 
The unexpected can also challenge a construction schedule.  Uncovering electrical, plumbing, ventilation or structural systems that need to be upgraded or that are not code compliant can add extra days or even weeks to a project.  A best practice is to account for the unexpected in the original timeline.  If nothing unexpected occurs, your project will be delivered faster than you expected, but that typically is rare, because it is impossible to see behind walls, inside of ceilings or underneath floors. 
We recommend that homeowners in Denver, Colorado & Dallas, Texas request that their contactor/installer/showroom provide a schedule that offers details weekly of different stages of the project and when they will be completed.  The schedule should also outline what is expected of the homeowner at each phase of the project. When homeowners in Denver, Colorado & Dallas, Texas  know that in week eight, they need to finalize product selection, there are no surprises. A detailed schedule makes it easier to create and manage realistic expectations and reduce timelines.