The Kitchen & Bath Industry Show (KBIS) is the largest trade fair for kitchen and bath manufacturers, showrooms, designers, and trade professionals in North America. Manufacturers typically introduce new products, prototypes, and technologies at the show.  2022 continued that tradition of showing what kitchen & bath trends are coming in the future.
New Kitchen & Bath Product Highlights
Several highlights of what the future may possibly hold for homeowners in the Denver area are as follows:
Manufacturers responded to the impact COVID has had on the way Americans work, entertain, relax, exercise, and live. We have found that many homeowners in Colorado that want to create the kitchen of their dreams plan to continue and expand their frequency and ability to entertain at home.  Appliance manufacturers have responded by creating new types of refrigeration that make entertaining easier. Several manufacturers featured flex drawers in their models and compact fridges that can fit into a cabinet drawer.  A great, convenient, and space-saving option for wine storage.
Smart Appliances
Smart appliances appear to have taken significant leaps to the next level.  Featured ovens offer multiple functionalities that include air frying, convection, rotisserie, steam cooking, and broiling capabilities all controlled through easy-to-use apps.  New technology trends enable a vent hood to communicate with an induction cooktop to optimize the performance of both appliances that can work with any appliance brand.
The big techie showstopper at KBIS was a modular outlet that enables homeowners across the Rocky Mountain region to switch inserts depending on what they want to charge.  If you are frustrated by tech manufacturers constantly changing the way their products connect to charging stations, this new product ends your frustration.
Wellness was Trending at KBIS.
Everything from air purifiers to smart water systems and touchless faucets was on display.  For the bathroom, trends included numerous styles, types, and functional options for bidet-seated toilets, self-cleaning toilets, tubs, and shower systems that offer multiple therapies and the next generation of steam showers.
Easy Cleanup
Making kitchens and baths easier to use and clean was another significant KBIS trend that will make Denver homeowners happy.  Almost every dishwasher at KBIS featured a third rack and manufacturers have upped the ante when it comes to quiet performance.  We were impressed by a new linear drain that includes a built-in device to catch hair and an in-shower system that replaces the need for towels by offering a drying system.
How can the advancements in technology, performance, ease of use, and aesthetics help you to create the kitchen and/or bath of your dreams? Please give us a call or make an appointment to visit us at either of our showrooms and we are thrilled to show you how to take advantage of these new high-tech options.
NKBA 2022 Design Trends Forecast
The National Kitchen & Bath Association (NKBA) recently released the results of its 2022 Design Trends Forecast whose goal is to identify styles, features, and materials that are expected to be popular in the next several years and to identify products that are likely to have the most significant impact on kitchens and bathrooms.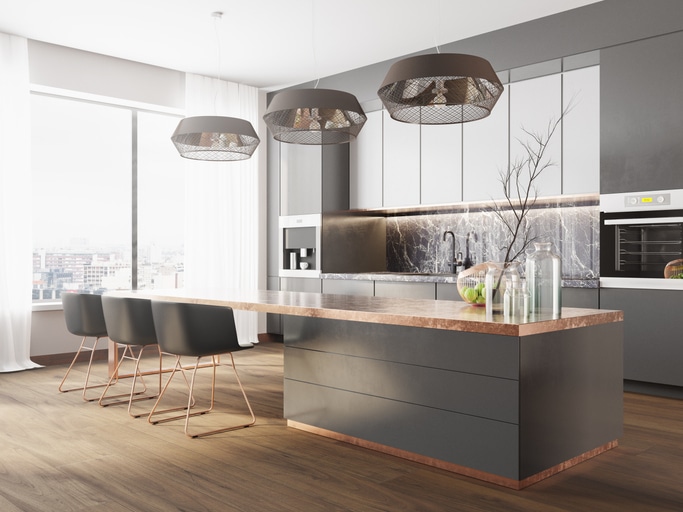 The survey results mirror preferences among homeowners in Denver Colorado who want their new dream kitchens to offer flexible, multifunctional workspaces.  Kitchens in Colorado are now used as home offices, classrooms, studies, and dining rooms and for other purposes.  Homeowners in Colorado are attracted to large islands that can be used to prepare meals, function as dining tables, and to do homework, or double as an in-home office.  Pantries will continue to be in high demand because of their ability to provide desired storage and working areas for small appliances.
Kitchen sinks also have been transformed to serve multiple functions beyond washing and rinsing dishes.  Workstation sinks feature built-in drying racks, colanders, and cutting boards that provide another previously unused area to prepare meals.
Health, safety, wellness, and cleanliness are top of mind for almost all homeowners in metro Denver. Antimicrobial, easy-to-clean surfaces will continue to increase in demand along with outdoor living spaces that connect the kitchen and home to mother nature.  This bodes well for quartz surfaces along with larger format tiles and slabs that require less grout and therefore are easier to maintain and keep clean. Touchless faucets, voice-activated LED lighting, and recycling storage are other high-demand products that will continue to trend into the near future along with more mobile-friendly spaces, healthy cooking, and app-controlled appliances.
Trends for the bathroom include high-performing large showers. We often recommend the use of linear drains for showers because they do not require a curb and can eliminate the need for a shower enclosure.  Environmentally efficiency is also on the top of homeowners' in Denver's wish lists.  Sustainable design, LED lighting, low-E windows, and doors, energy-star efficient appliances, EPA WaterSense plumbing fixtures, VOC-free paint, radiant flooring, and materials with recycled content also are expected to grow in popularity especially now because environmental efficiency does not have to come at the expense of performance.
The bathroom will become smarter with connected products that allow homeowners in Colorado to preset water temperature and connect to digital assistants for entertainment and communication.  Curbless showers, universal design concepts, grab bars, hand-held showerheads, and shower seats will also trend-forward as more homeowners in Colorado elect to age in place in their existing homes.