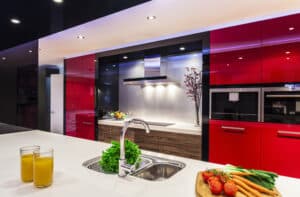 The role and functional needs of the home have been transformed during the last three years.  Homeowners in Denver, Highlands Ranch and Aurora have used their homes as offices, conference rooms, classrooms, cafes, libraries as well as a host of other functions. Many homeowners in Colorado have and will continue to spend more time in their homes as we continue on this path of a new idea of work, play, and life.  The demands on the home are not expected to wane among homeowners within the larger Denver area anytime soon.  That's why we have seen increased demand and desire for dream kitchens and homes with warmer and softer color pallets that provide a sense of calm and serve as a place where family members can rest, relax and decompress.
Warm colors that are finding their way into kitchens for homeowners in Highlands Ranch, Denver, and Aurora, include yellows, reds and oranges.  These warm colors are believed to increase body temperature and blood pressure that make the body feel warmer thus the term "warm colors."  Warm colors also can make kitchens and other rooms in your home feel brighter, cozier, and more inviting. Check out this color palette generator to use when getting ideas for your kitchen and interior designs!
Red paint, backsplashes or other accents stimulate the appetite and provide a bold and dramatic statement to a new kitchen.  Red is often paired with contemporary motifs. Homeowners in Denver, Aurora and Highlands Ranch that prefer a more traditional design can achieve the same goals by using lighter shades of red that contrast perfectly with white cabinets.
Yellow tones in your new dream kitchen speak of sunlight and cheer. A perfect match for yellow is cherry. Another widespread use of yellow in kitchens is to pair gold tones with chocolate and light tan.
Warm colors are welcomed by homeowners in the greater Denver area because they can temper the coldness of white cabinetry.  
There are limitless options for homeowners throughout Colorado to use warmer tones.  They do not have to be focused on cabinetry.  Instead, homeowners can bring warmth and coziness to their new kitchens with accent colors, bar stools, wall coverings, countertops, door frames, crown molding, fabrics, baskets, vases, and other components.  A key is to achieve the appropriate contrast and balance within the color pallet.
How can warm tones create a sense of calm, relaxation, and stress-free space in your new dream kitchen? Give us a call or make an appointment to visit our showroom in Denver, Highlands Ranch or Auora and let us put together a color palate that makes your new dream kitchen the envy of the neighborhood.