How We Create the Kitchen of Your Dreams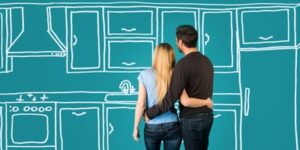 Cabinet Warehouse, in both Denver Colorado & Dallas, Texas thrives on the enthusiasm our clients have when they are starting the design process for a new kitchen and/or bath. Many clients come to the showroom armed with Internet research, and we love hearing their thoughts and ideas regarding style and look. With the abundance of information available online, you might think that you know exactly what you want and need for your project. You may be wondering what you even need a kitchen and bath showroom for. Let us count the ways:
Role 1: Curator of Information
We will help you curate the information and images that you have collected to assure that your photos and ideas transform from concept and vision into reality. You should expect your kitchen designer to ask lots of questions and listen intently to your responses to help you sift through the options. For example, if you searched for farmhouse sink options on a home renovation site such as houzz.com, your query would generate 77,000 different farmhouse sinks. Which one will work best for you? It's our job to make recommendations by asking the right questions, curating options and summarizing key facts.
Role 2: Developing Specifications
We want you to relish in focusing on how your finished room will look while we ensure that the products you select are within your budget, that everything functions properly and that your project is completed without a hitch.
We develop detailed specifications for every aspect of your job. That enables us provide you with apples-to-apples comparisons and helps you receive the best value. We will develop a schedule for your entire project, starting with demolition and working through final punch list corrections.
Developing specifications is where the rubber meets the road. It's one thing to specify recessed ceiling lights. It's another to specify recessed ceiling lights and detail where they are to be located and how they will be installed thereby guaranteeing that your finished room will always be seen in its best light.
Role 3: Construction Management
We manage the construction process to ensure that timelines and quality standards are met. We almost always advise our clients to include time and financial contingencies because there is almost always a surprise. We manage the construction onsite to deal with surprises and develop troubleshooting recommendations for your consideration as necessary.
Role 4: Time Manager
A kitchen and bath showroom will help you with time management. We know typical delivery time lines for the products we carry. We will build in longer lead times if you select custom cabinetry because the cabinets will be made to order. Longer lead times are also a fact of life for custom finish on kitchen faucets, cabinets and door hardware. We will inquire about your desired timeline and present a realistic schedule that meets your needs.
Role 5: Troubleshooter
We take the lead in solving any problems that occur throughout the project regardless of who is responsible.
Role 6: Hand Holder and Friend
We understand and appreciate the fact that your design project is can be stressful undertaking, and we'll work with you to ease stress and make the renovation process one that is enjoyable for all concerned.