The National Kitchen & Bath Association released its 2022 Kitchen Design Trends study based on survey responses from kitchen designers, showrooms, product manufacturers, remodelers, contractors, and architects among others.  Key findings reflect the trends industry professionals anticipate that homeowners in Colorado will prefer in the coming year. They include:
Kitchens that offer flexible, multifunctional space are the top trend for 2022
Large islands that are used for meal preparation, dining, homework, and as a home office.
Pantries that provide storage and small appliance working areas for coffee stations, blenders, mixers, toasters, etc.
Workstation sinks with built-in drying racks, colanders, cutting boards, etc.
Easy to clean, antimicrobial surfaces.
Quartz continues to be the countertop of choice for homeowners in Denver Colorado.
Large-format tiles or slabs that require less grout.
Smart faucets (touchless, voice-activated, app activated).
Increased demand for outdoor living spaces adjacent to the kitchen.
Smart appliances (voice-activated; app-controlled).
Smart lighting (voice-activated; app-controlled).
Increased demand for organic and natural styles.
Increased use of natural light in the kitchen from large high-performing windows and doors.
Color palettes moving away from gray and white as primary colors to using whites as neutrals and more color and lighter wood grains.
Increased demand for warm hues and nature-inspired colors, including greens and blues, golds, and other metallics.
Plumbing fixtures and cabinet hardware with more matte and brushed finishes with black, stainless, nickel and pewter to be in the highest demand.
Environmental efficiency products and operations that include:
LED lighting
Recycling stations
Low-E windows and doors
Energy Star/energy-efficient appliances
WaterSense faucets and fixtures
VOC-free paints
Products with recycled materials
Radiant flooring
Universal design features include designs that enable homeowners in the Denver Metro area to age in place gracefully and with dignity.
Kitchen Shape Trends for 2022
When homeowners in Colorado start to plan the kitchen of their dreams, one of the initial decisions that they need to make is the layout that makes the most sense for how they want their new dream kitchen to look, feel, and function.  Different kitchen layouts offer both advantages and shortcomings. There are kitchen design trends but what's best for you?
U-shaped kitchens feature cabinets, countertops, and appliances linking three walls with an open end.  Because there are opportunities for cabinetry on three walls, most U-shaped kitchens offer ample storage space for most homeowners in the Denver Metro area.  U-shaped kitchens also provide lots of design and layout flexibility.
Traditional U-shaped kitchens are closed; they do not connect to other rooms in the house unless you opt to modify the third wall to create an island-breakfast bar combination if space permits.  U-shapes make it easy to designate distinct work areas for cooking, meal preparation, and clean up, providing enough room for more than one family member to prepare meals or engage in other activities in the kitchen without running into one another.
Corners can be a challenge in U-shaped kitchens because they can be cumbersome to access or require special design elements such as magic corners, lazy susans or other organizing hardware.  In smaller spaces, U-shapes can feel cramped.  The smaller the space, however, the higher the potential for a cramped feeling especially if appliances are close to one another.  Additionally, in smaller U-shaped kitchens it may not be practical or even feasible to install an island.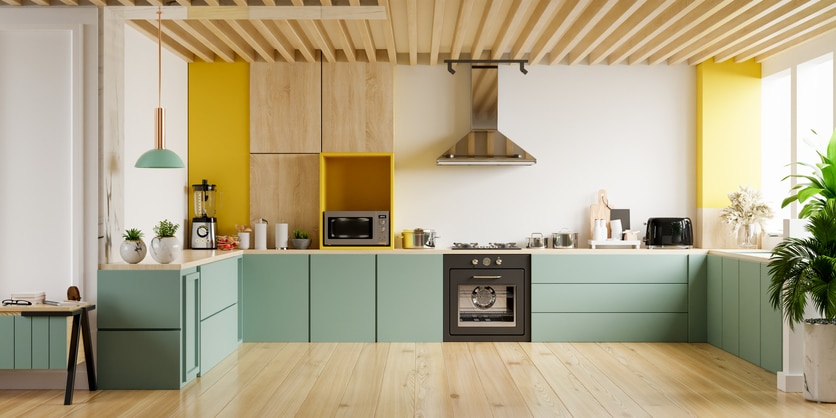 L-shaped kitchens are another favored choice of homeowners throughout Colorado.  As the name implies, L-shaped kitchens feature two walls with cabinetry that form an L.  L-shaped kitchens provide homeowners in Denver options to create an open floor plan and easily incorporate an island or peninsula.  If you don't want or need an island, L-shaped kitchens are ideal for families with multiple cooks or who like to entertain because they provide an open, airy space with lots of room to maneuver.
The L-shaped kitchen also caters to the way a family cooks, who does the cooking, and how often.  Appliance placement is key to making L-shaped kitchens function effectively and making it easier and more enjoyable to prepare meals.  Because there is typically more floor and counter space in L-shaped kitchens than in other configurations, there is a higher likelihood of clutter and there is more space that needs to be cleaned and maintained.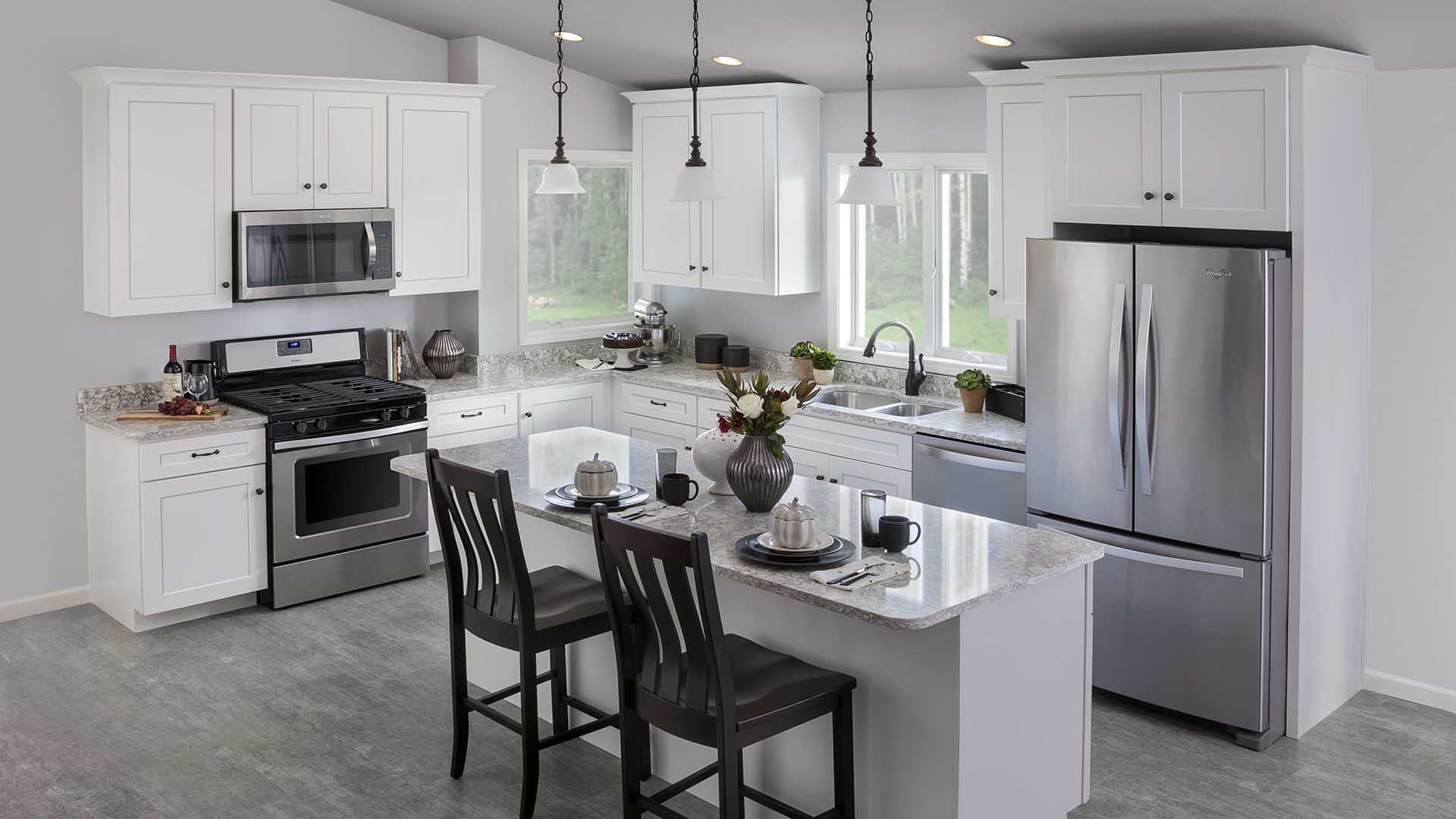 The connecting corner can also be a challenge.  A professional designer knows how to overcome that challenge with corner cabinets that can pull out or feature a lazy susan or other organizing tools to provide additional storage space.
Which shape is ideal for your dream kitchen? Which smart features are important to you? We will work to help you create a kitchen that will be the envy of your neighborhood. Please give us a call or make an appointment to visit us at either of our showrooms, we are here to help you with all the important decisions.