Islands remain one of the most popular and requested features of new kitchens for homeowners in Denver Colorado,  and for good reason.  Kitchen islands provide storage, countertop space for meal preparation; a place to dine, entertain, do homework, and offer options to include refrigerator drawers, steam and microwave ovens, sinks, and additional cooking capabilities.
There is no one-size or shape fits all solution for islands.  The shape and style depends upon the amount of space the kitchen has to accommodate an island along with the look and feel that the Colorado homeowner prefers. It also needs to take into account the functional uses that meet homeowners' needs, wants, and the look they have been dreaming about.
Kitchen Island Pros & Cons
Below are popular options and the pros and cons of each:
U-Shaped Islands
Many homeowners in Denver who are avid home chefs are particularly attracted to U-shaped islands because they provide three walls for cabinetry, appliances, and seating.  The main factor in selecting a U-shaped island is space.  They tend to be extremely large and even if there is space for a U-shaped island, some homeowners along the front range become less enamored when they realize that, because of their size, U-shaped islands are not always the most efficient to use, navigate, and clean.
Galley Style
Rectangular islands, also known as galley islands, provide countertop space, cabinetry for storage, and in some instances, depending on size, additional space for cooking and seating.  Galley islands are typically specified for smaller spaces and open-concept kitchens.  The downside can be that character can be compromised for functionality.
L-Shaped Islands
L-shaped islands, as the name implies, resemble the letter L.  They work best in a larger kitchen because they require a lot of space. They be a great asset in making use of dead space in a kitchen and separating cooking and eating areas. L-shaped islands provide an abundance of cooking space, especially if there is more than one avid cook in the family.  There is sufficient room for two to operate independently and plenty of space for seating.  These typically are not appropriate for open-concept kitchens and don't necessarily maximize storage opportunities.
Circular Rounded Islands
Circular-rounded islands are elegant and can serve as focal points for a dream kitchen for homeowners in Denver.  This option requires a lot of space but provides abundant room for meal preparation, eating, seating, and multiple functions kitchens now serve.  The downside is that the shape is not the most efficient use of space. Accessing cabinets under circular or rounded countertops is not as easy as other types of islands.
Double islands can provide one area for meal preparation and cooking and a second area for seating, entertaining, homework, Zoom calls, and more.  Space permitting, double island kitchens are particularly appealing to homeowners in the Denver Metro area who like to cook and entertain.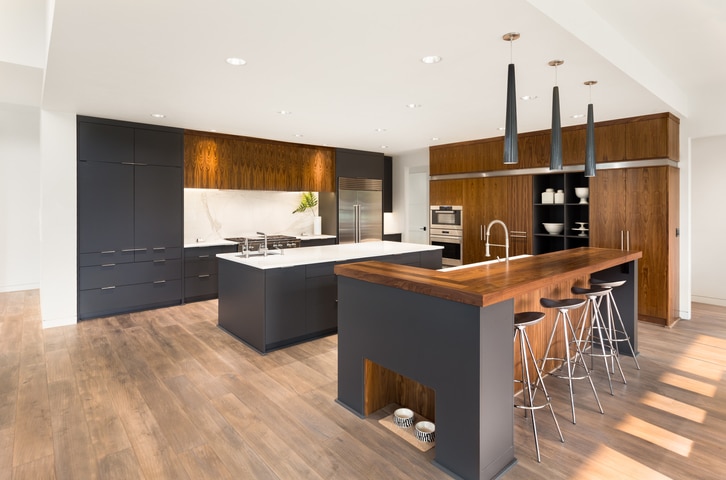 Kitchen Island Tables
Kitchen island tables, also known as furniture style, are typically open and smaller than other types of islands.  The downside is functionality.  Islands that resemble furniture pieces are generally not conducive for meal preparation, cooking or providing storage.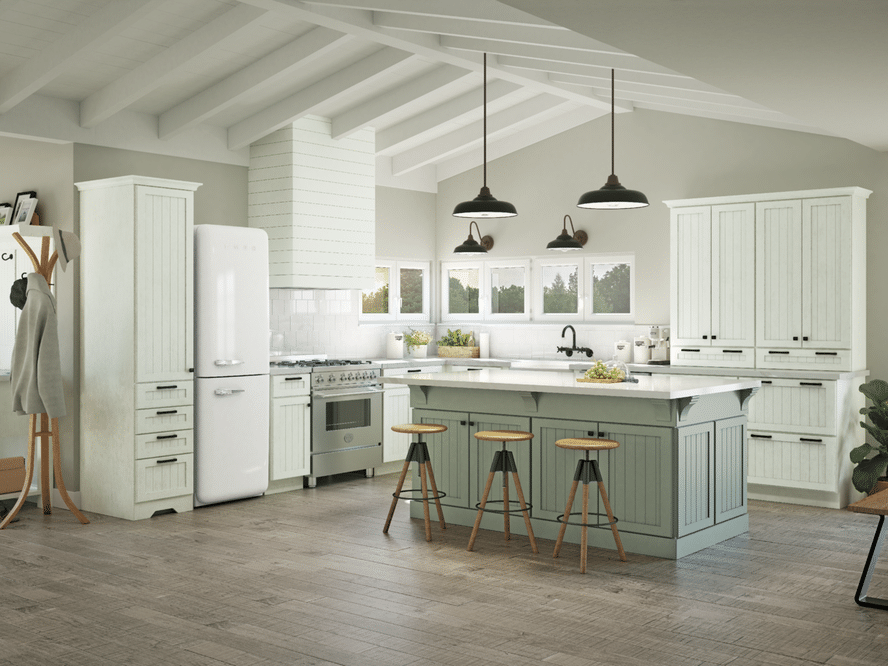 Our designers work with top vendors to source the materials that will be perfect for your kitchen remodel including Cambria, Arizona Tile, Dorado Surfaces, Cosentino, MSI Surfaces,  and Architectural Surfaces
Which island shape or design is the perfect option for your new dream kitchen?
The designers at Cabinet Warehouse are here to help you make these important decisions about your kitchen island. Give us a call or make an appointment to visit any of our showrooms,