Making A Smaller Kitchen Look Larger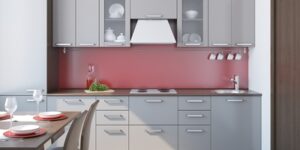 Everyone knows that the kitchen is a central meeting place in the home, but do you have to be limited by size? Absolutely not. Our showroom has designed numerous smaller spaces and showed our customers how they can make the most of the space that they have. Here are several suggestions you can use to make a smaller space appear larger and delight in a newly renovated kitchen.
Select lighter colors especially on countertops, backsplashes, walls and millwork. Using lighting colors will make a smaller kitchen feel more open. If the kitchen has windows that look out into a garden or outdoor space, try to incorporate the colors you see into the palate selected for floor, wall and countertops.
If there is little to no natural light, we often specify mirrored tile backsplashes or select a mirror for over the stove. Using mirrored surfaces helps to open spaces and bound light around. Mirrors often provide a more interesting and open visual than staring at a plain wall.
Open shelves are not only and exceptionally functional and utilitarian storage option, they also help to keep the space light and airy. They work particularly well in kitchens with taller (ten foot or higher) ceilings.
Don't forget about the floor. Too often floors are an after thought or not given their proper due. That's not the case at our showroom. We understand that floors offer another opportunity for you to make a unique design statement. Using a patterned floor gives the impression of a great expanse. Your options are almost limitless, ranging from wood floor patters to hand-painted tiles. We can show you how to wow your family and friends with great flooring design ideas.
Light right! There is no such thing as an over lit kitchen. LED (liquid emitting diodes) technology is changing the lighting game for the better in ceiling, under cabinet, recessed, pendants and just about any other fixture you can imagine. Lighting is not where you want to cut back.
Have a question about how you can make your smaller kitchen or bath more functional and enjoyable, give us a call at or visit our showroom at (phone number and url of your website.