Why choose ready to assemble v. pre-assembled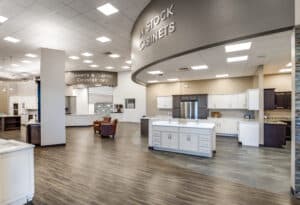 Here at Cabinet Warehouse, quality and convenience are everything. Therefore, exploring the pros and cons of pre-assembled cabinets vs. Ready-to-assemble cabinets deserves some conversation. Customers often ask what the pros and cons are of RTA (Ready–to–Assemble) v. pre-assembled cabinets, and we have laid out some facts and information to cover this topic for our community.
The Biggest Differences Between The Ready to Assemble (RTA) v. Pre-assembled are as follows:
Pre-assembled does not require to consumer to pay to have the boxes constructed by a third-party or put them together themselves. The pre-assembled cabinets are built by professionals at the factory.
Assembling the cabinets is time consuming and frustrating if you are not skilled at construction. If the cabinets are not level and square when installed, this can also cause issues with the countertops.
If you are missing a part from the RTA cabinet, the piece will have to be submitted as a warranty. Since most of the RTA cabinets are shipped from outside the U.S., this can sometimes be a lengthly process. This could significantly delay the time a consumer may need to go with out a sink and countertops if the warranty item is for a base cabinet. If we have a warranty item with our cabinet lines, the new part is generally shipped out within 2-4 weeks.
Installers will charge more for having to assemble the cabinets.
Most RTA cabinets come standard with an all-plywood box due to the fact that it makes them easier to assemble. The plywood construction is not necessary for strength of cabinets when actually installing them. I rarely upgrade the customer to all-plywood with our lines (10-15% upgrade) because the MDF comes with the same warranty as the plywood option. If you have a plumbing leak and have a lot of water in your home, regardless of the materials the boxes are made out of, you would need to file an insurance claim. I tell customers that I would rather see them spend their money on an accessory that they can see or use rather than the plywood that they will never know is there after the countertops have been installed.
The main difference between RTA and pre-assembled is that (Ready to Assemble) cabinets will come disassembled in a smaller package. In this case the customer or installer is responsible for the correct assembly of each cabinet, potentially raising the risk of incorrect assembly according to condensing cabinets that measure on average, 30″Wx24″Dx34.5″H fully built, into a 30W"x24D"x6H" shipped box. Also, being pre-manufactured RTA cabinets are sometimes limited to very few color choices.
Lastly, Pre-Assembled cabinets will ship with much larger footprints but on the upside are assembled by professionals that work for the manufacture, therein, removing the concern of assemble quality. With the ability to be custom made, Pre-assembled will also offer a greater variety of choices in colors, textures, and finishes allowing for customers to truly attain a kitchen of their dreams.
Please give us a call at one of our locations here or make an appointment to visit one of our showrooms here.